Roll over image to zoom in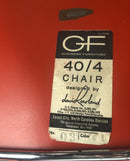 Description
David Rowland's 40/4 stackable chair is one of the most important designs of the 20th century. Its elegant lines, excellent ergonomics, and unsurpassed ability to create space without taking up space continues to attract architects and designers.
An indisputable icon of multifunctional design, the 40/4 chair is featured in design collections and museums all over the world.  Produced by GF Company in Ohio, USA.  Features:
- Deep Orange
- Chrome legs
- Circa 1963, based on label graphics
- Minor wear from formal use
- Net weight 16lbs each.
- Each chair has original 40/4 label
- Dimensions (inches): 30H x 19D x 19.5W
- Seat height 17 inches
- Seat depth 17.5 inches
- Priced and sold as set of 4

Payment & Security
Your payment information is processed securely. We do not store credit card details nor have access to your credit card information.