Roll over image to zoom in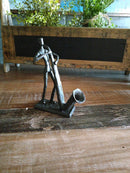 Description
This cast iron sculpture of a musician playing an alphorn will hit all the right notes with musicians and music lovers alike. The alphorn was used to communicate in the European Alps throughout history but is primarily used as musical instrument now.
Dimensions (inches): 5.25W x 2.25D x 6.75H.
Payment & Security
Your payment information is processed securely. We do not store credit card details nor have access to your credit card information.