Roll over image to zoom in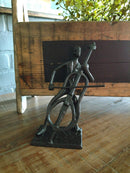 Description
This cast iron sculpture of a cellist will hit all the right notes with musicians and music lovers alike.
Dimensions (inches): 5W x 3D x 7H.
Payment & Security
Your payment information is processed securely. We do not store credit card details nor have access to your credit card information.